RAPnarök

~ Details ~

Origin/Based In

Eastbrooke

Genre(s)

K-Pop

Years Active

2015 to Present

~ Other Info ~

Debut

Part 1

Associated Acts
Pyramid, Xylona Dillague, Elliden Wu, Wonder Würld
Members

Jung Yujin

Hyeon Jin Seo

Yoon Tulia (Tue)

Kwon Eunji

Lee Hyerin

Kim Sara

Sung Bitnara (Bina)

Son Joohee

Ryu Lara

Ahn Nina
Shin Sun
Selena Lee (Moon)
Kimberly Seol (Kim)

Controlled By
BulletRefutation
RAPnarök is an 8-member K-Pop girl group under Wu Tracks formed in throughout the summer of 2015, debuting November 2015. The band debuted with 5 members, who were revealed monthly starting in June 2015, and over the years there were significant lineup changes. The group debuted with their hit song, "No More", which was rerecorded by their newer lineup.
At debut, the group had a hip-hop concept, but as time passed and members changed, the group has said that there is no specific concept they will strive for. They like to challenge themselves with different styles.
Debuted with first mini album "I Don't Care" on April 17, 2015. Promoted "No More" for 2 months.
Released first single album "We R Back" on September 23, 2015. Promoted the song for 2 months.
Released digital single "Winter Wonderland" on December 23, 2015. Did not promote song.
Release second single album "I Don't Care v2.0" on April 17, 2016, their 1 year anniversary. Promoted the song for 1 and a half months. Received 2 wins, their first wins as a group.
Member Moon debuted solo and released digital single "I'll Do My Time" on May 5, 2016. Did not promote the track.
Released second mini album "Heart Thief" on August 13, 2016. Promoted the song for 2 months. Had 3 wins on music shows.
New members Hyeon Jin Seo and Yoon Tulia debuted on November 19, 2016.
Released third mini album "No Name" and promoted two tracks, "Drop It" and "Super" for 2 months. Had 1 win on music shows.
Participated in Wunder World collaboration "Snow Story".
Released single "Glass" in July 2017. Promoted song for 2 months, received 3 wins.
New members Kwon Eunji and Kim Sara debuted with the group on January 13, 2018.
Released mini album "Molla/몰라 (I Don't Know)" and promoted track "I Don't Know".
The contracts of the original 5 members had expired. Nina and Sun chose to renew for one more year while the other 3 members chose not to renew and left the group. Moon's leadership was passed on to Nina. Kim pursued a career in acting, Yujin decided to attend college, and Moon pursue a solo rapping career which didn't work out.
2 weeks following the departures of the 3 members, Wu Tracks announced that two new members would be added: Ryu Lara and Son Joohee.
The group released single "Highlight" on November 20, 2018. They promoted the song until the end of the year. They received 4 wins.
On May 15 2019, it was announced that internet celebrity Lee Hyerin was added to the group.
Initially, the group was meant to have a comeback later that month, but because the younger members had exams and assessments, the comeback was pushed back. For about 3 months, the group performed previously released songs as a "unit", consisting of members Nina, Sun, Jin Seo, Tue and Hyerin.
On August 31 2019, Yujin chose to return to the group, reprising her role as lead rapper.
On September 16 2019, the group released their first full-album "40". The group promoted main track "Lost" for 1 month. They received 6 wins, the most wins they received in a promotion period to date.
On October 17 2019, Sun and Nina's contracts expired. After much discussion, the members decided to withdraw from the group. Yujin was then made leader following Nina's departure. The label stated that the group will continue promoting a shortened version of "Lost" for another 2 weeks, in which they received 2 more wins. As of October 30 2019, the group had 8 wins, the most they've had for a single track.
On January 1st, 2020, a new member, Sung Bitnara, would be added to the group as a main vocalist, essentially replacing Sun.
Yujin (Jung Yujin - 정유진) - 3rd Leader, Lead Rapper, Lead Dancer, Vocalist
Jin Seo (Hyeon Jin Seo - 현진서) - Main Vocalist
Tue (Yoon Tulia; 윤투리아) - Main Rapper, Vocalist
Eunji (Kwon Eunji - 권은지) - Vocalist, Main Dancer, Choreographer
Hyerin (Lee Hyerin - 이혜린) - Lead Vocalist, Lead Dancer, Rapper, Face of the Group
Sara (Kim Sara - 김사라) - Lead Vocalist, Rapper
Bina (Sung Bitnara - 성빛나라) - Main Vocalist,
Joohee (Son Joohee - 손주히) - Vocalist, Lead Dancer
Lara (Ryu Lara- 류라라) - Vocalist, Rapper
Former Members
Edit
Moon (Selena Kim - 김셀레나) - 1st Leader, Main Rapper, Lead Dancer
Kim (Kimberly Seol- 설킴벌리) - Lead Vocalist, Main Dancer
Sun (Shin Subin - 신수빈) - Main Vocalist, Rapper
Nina (Ahn Nina - 안니나) - 2nd Leader, Lead Vocalist
Member Timeline
Edit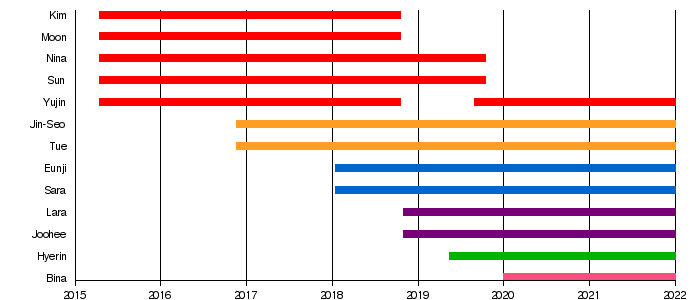 Leader Timeline
Edit

Ad blocker interference detected!
Wikia is a free-to-use site that makes money from advertising. We have a modified experience for viewers using ad blockers

Wikia is not accessible if you've made further modifications. Remove the custom ad blocker rule(s) and the page will load as expected.